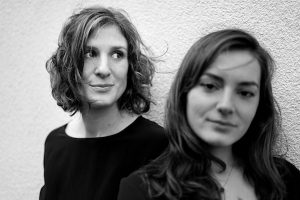 Italian flautist Anna Buck began her musical studies with Enzo Caroli in Treviso. She took her first diploma exam at the Bologna Conservatory in 2005 and after a further two years at the Milan Conservatory [with Gabriele Gallotta] gained the second-level diploma in solo flute. In 2011 she moved on to Germany to study with Jean-Michel Tanguy and Birgit Engelhardt at the Musikhochschule in Mannheim, which led to a Master Degree with top grades in 2013.
Since 2015 she has been based in Berlin.
She has attended courses and master classes given by Felix Renggli, Mario Caroli, Denis Bouriakov, Sarah Louvion, José- Daniel Castellon, Robert Longevin, Mikael Halesvuo, Aldo Baerten, and Patrick Gallois at the Accademia Musicale Chigiana in Siena. In 2014 she participated in the Ensemble Recherche academy and the following year in the contemporary music academy at the Musikhochschule in Lucerne under the supervision of Pirmin Grehl, David Alberman and Anne Bassand. In 2015 she also attended the IMPULS festival in Graz, tutored by the Klangforum Wien.
She has been a prize-winner in several national and international competitions.
Anna gives solo recitals and plays as a member of various chamber and orchestral ensembles, performing at major venues and festivals, mostly in Italy and Gemany.
Since 2015 she has appeared regularly with pianist Imelda Guraziu, playing music from the classical repertoire.
As an active performer on the contemporary music scene, she has taken part in premier performances of works at the Venice Biennale, the Darmstadt Festival during the "Tage für Neue Musik", the ZKM in Karlsruhe as part of a neuroaesthetics symposium, the Festival Cortinas etc. In 2014 she helped record the score for some shorts made by Charley Bowers, as part of a film project produced by ARTE-ZDF, and in 2015 she was recorded by ORF (Österreichischer Rundfunk) during the IMPULS Festival in Graz.
Her keen interest in improvisation has resulted in collaboration with pianist Johannes Schneeberger, with work on four major projects since 2013: "Reflections", where the main aim is to break down the barriers separating classical, contemporary and improvised music; "Dantesque", inspired by the Divina Commedia and supported by the Societá Dante Alighieri in Berlin and the "Associazione Imagonirmia"; "ephos", which is based on field recordings made in the Italian Dolomites and has the patronage of the Unesco Dolomites foundation; and "SILK", using electro-acoustic improvisation to explore the possibilities of sound hybridization.
From 2014 to 2016 Anna performed regularly with the Trio Momentum (flute, viola and harp), a positive experience that led to the formation in 2017 of SALT (flute, viola and electric guitar), now busily engaged in creating a brand-new repertoire with classical music arrangements and new works commissioned through INM Berlin.